I probably cried out louder than it hurt but you need some way of drawing attention to your situation.
Tuesday, ca 2:30pm. Location: Pantai Mundu, The Island of Sumba, Nusa Tenggara Timur, Indonesia. A nice beach, a little north of Waingapu. Sumba is a large, but barely inhabited island. Double the size of Bali but only 18 percent of hte population. I have lunch at one of the rare beach resorts and meet a nice dutch couple. We talk about the adventures we are experiencing here. Then the two go for a swim and I get back onto my scooter.
Tuesday, around 3:00pm. I have been on my scooter for about five minutes, when swerve off the road. How? I don't know it. The second of shock has overridden my memory. I can only remember falling down a slope for about two meters. Crashing. Noticing that my leg is broken. And how i start screaming. I scream my head off. Not because i am in pain, that part is managed by the adrenaline. But because i can't see anybody and i'm praying that somebody will hear me.
Only a few seconds later people appear. I can only half remember, but it doesn't take long and it's about ten people around me. One pulls off my shoe. A truck is waved down. I say "Ambulans, Ambulans, Hospital, Hospital" and they answer something in Bahasa Indonesia which I don't understand but somehow interpret as "Boy, you don't seriously believe that we can get an ambulance in time? We'll make sure you're provisionally patched up and then this truck will take you into town."
Well. My leg is put in a makeshift splint out of four bamboo sticks and some cloth. Then i am carried into the truck.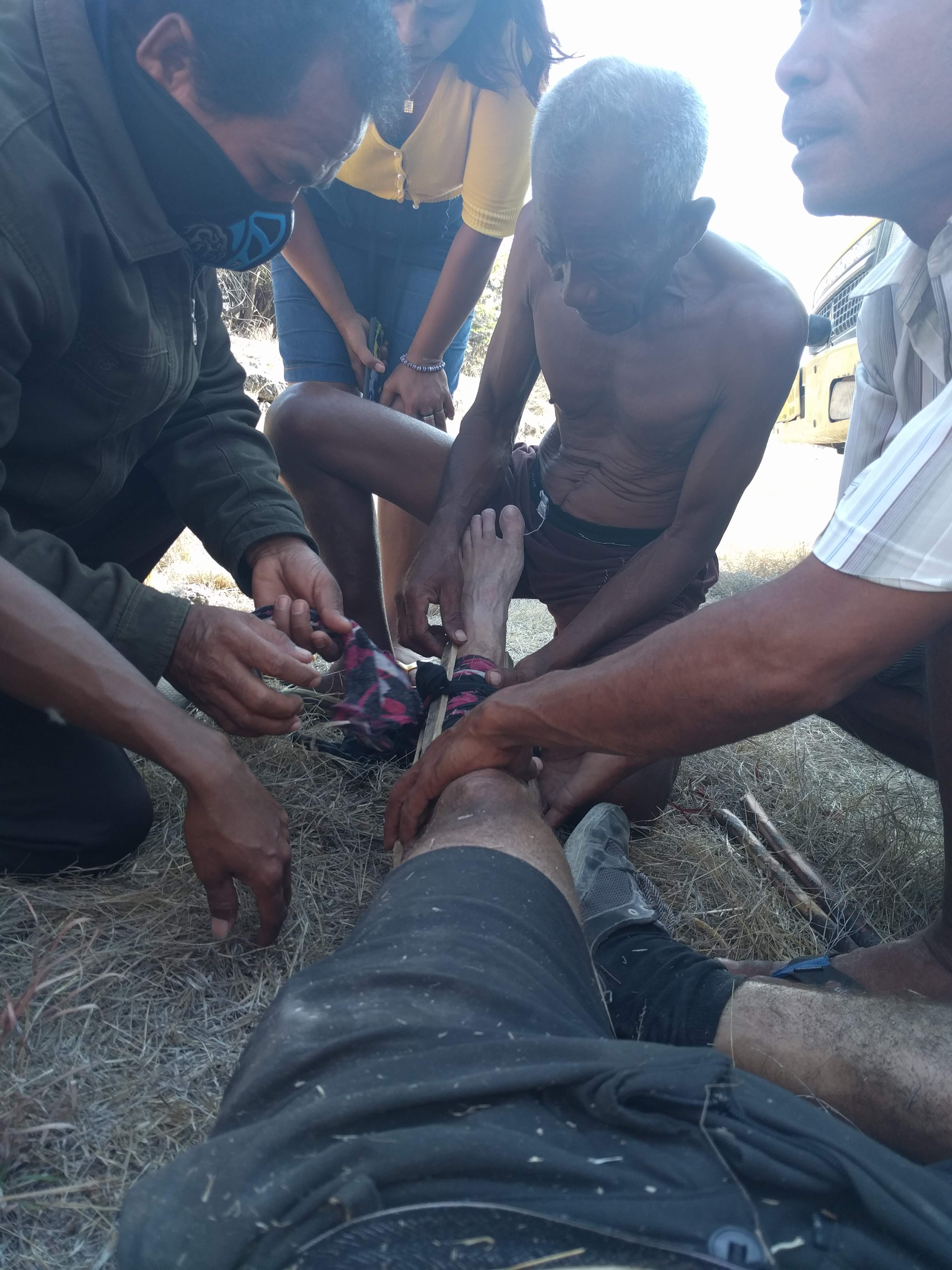 Why did I take pictures? Well, first of all I was able to. Second this is the fastest way of saving the geo-coordinates of a place. And I'd need that for later. I manage to let the people know that one of my camera lenses is still in the helmet compartment of the scooter and that they should rather throw away the bananas in there, too. Then we hit the road.
I don't know why but incidentally the voice recorder app of my smartphone turned itself on about an hour ago. It records the end of the conversation with the dutch couple, the crash, the situation afterwards, everything until i am in the x-ray chamber of the hospital. Maybe i'll evaluate that later.
In any case i'm now on the passenger seat of the truck. My my foot is set against the wall, losely strapped to the headrest with some rubber band. My head is in the lap of the driver.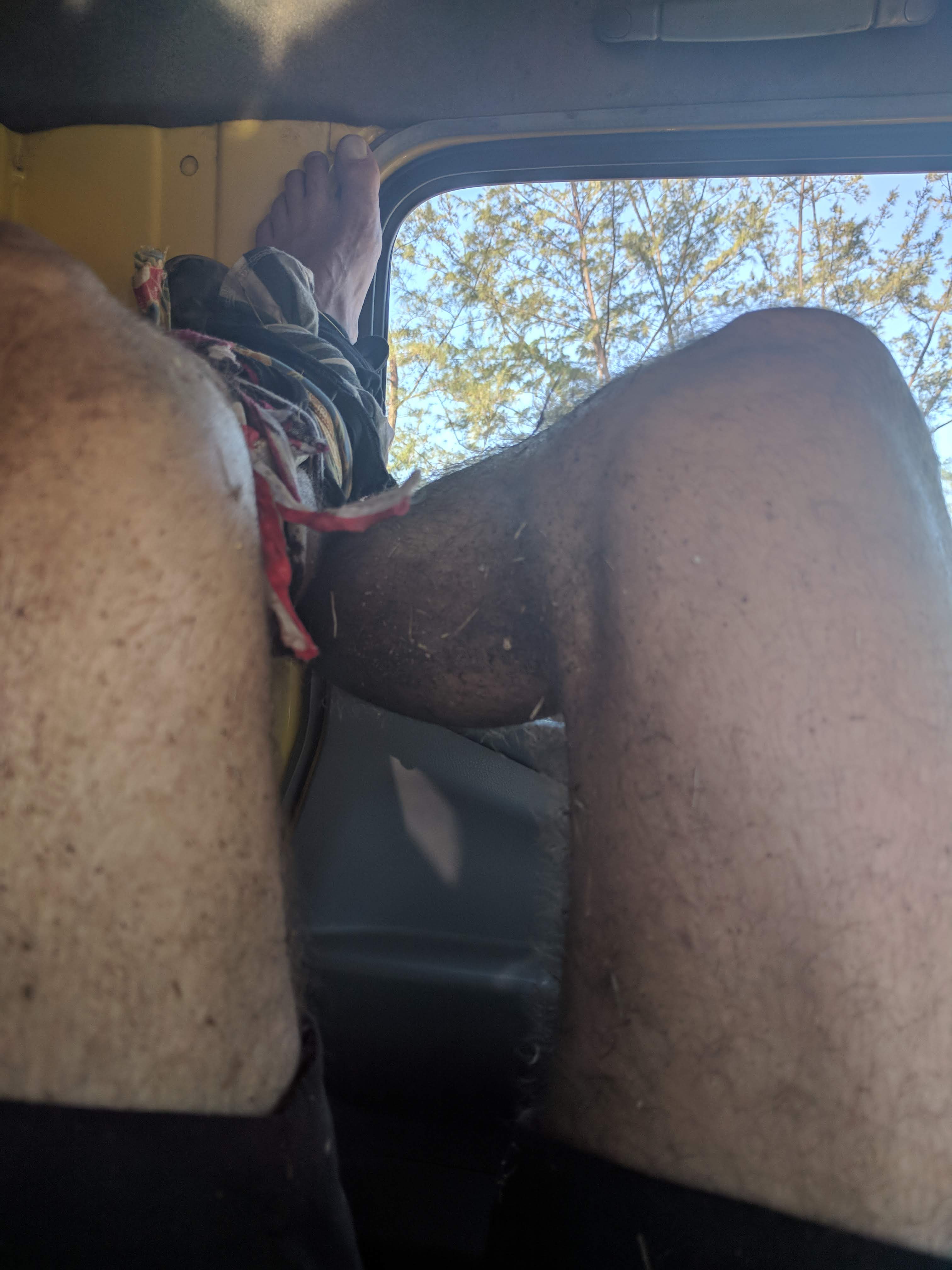 Every few seconds I say some variation of "OWWWW!". The road is partially bumpy, the way is far. As soon as we get an internet connection i start functioning.
I post a picture on facebook and the additional text "Vacation over, leg broken". I contact the first person who likes this and whom i'm closer to via messenger. "You have to helf me. I don't know the name of my travel healthcare insurance. Try X and ask if I am a customer. I'm not? Shit. Then try Y". By the time I arrive at the hospital I have my insurance number. In the mean time I call my hotel, Wera Beach. A beautiful place but i'll write more about that another time.
Natasha is french, speaks fluent Bahasa Indonesia and will help me in the following days to a degree that surpasses the expectable by a lot. She tells the Truck driver what to do. All will be good. She promises me that the hospital is decent and I don't have to worry. She is friends with some of the doctors here and she will visit me as soon as possible.
Tuesday, around 4:30 PM: Four employees of the hospital and the truck driver lift me onto a hospital bed. I am being helped. I am provisionally treated, receive water (during the truck ride I wasn't feeling too well because I was dehydrated), i am being checked up. The first good news: I was panicking that my foot might have to be amputated. That panic was unwarranted. The bamboo splint is replaced by something more professional. Then I am pushed into the X-Ray-Chamber. Without any radiation protection. But well.
After that i'm back to the admission room. The other guy from the Wera Beach Hospital (i'm sorry, i forgot the name) comes and brings me my stuff. He tells me not to worry. Somebody will make sure that the whole situation with the scooter is dealt with.
I contact my sister (Siân), who immediately contacts the healthcare insurance.
Finally a doctor comes to explain the situation. My shin (Tibia) is broken as well as my collar bone (clavicula).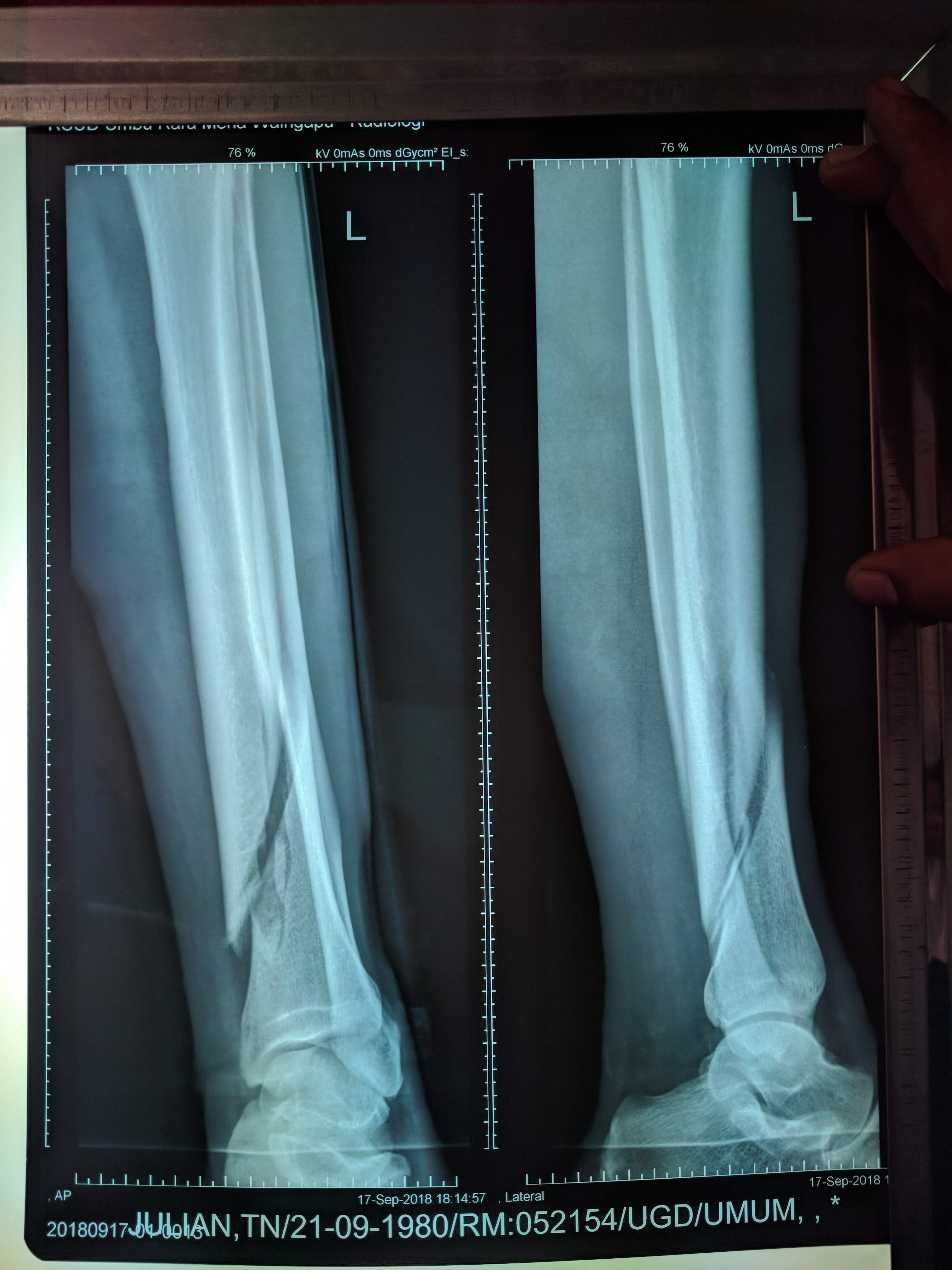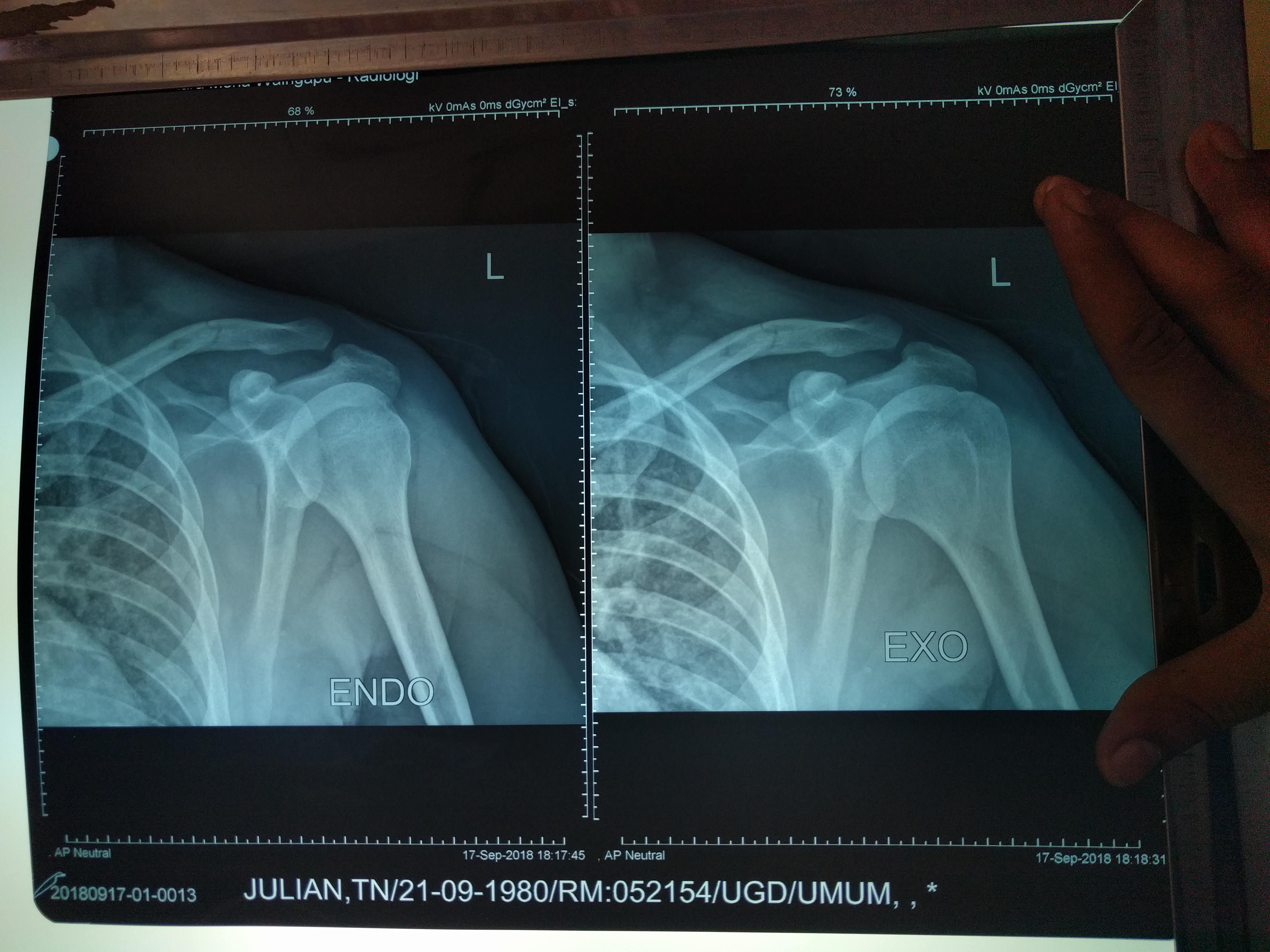 The fractures aren't complicated but there are no means in this hospital to operate this appropriately. The only way to treat me is putting my leg into a full cast and sending me to Bali.
The casting process has to happen under general anaesthesia as a partial anaesthesia would mean I wouldn't be transportable in the next day.
The people here are handling me in a moving way. Everybody is incredibly worried, because I am a bule (white guy) and it doesn't happen that often that people like me are seen here. Also everybody wants to reassure themselves over and over to make sure they are doing everything right.
After waking up from anaesthesia i am brought into a room. Unfortunately all VIP rooms are booked out. Meaning the ones with air conditioning. So I have to settle with a ventilator. The people who built this hospital obviously didn't think about making the doors wide enough. I therefore have to be carried into my room. I jokingly say that i'm a "bule besar dan berat" (a big and heavy white guy) and that is well-received.
The room: well, see for yourself.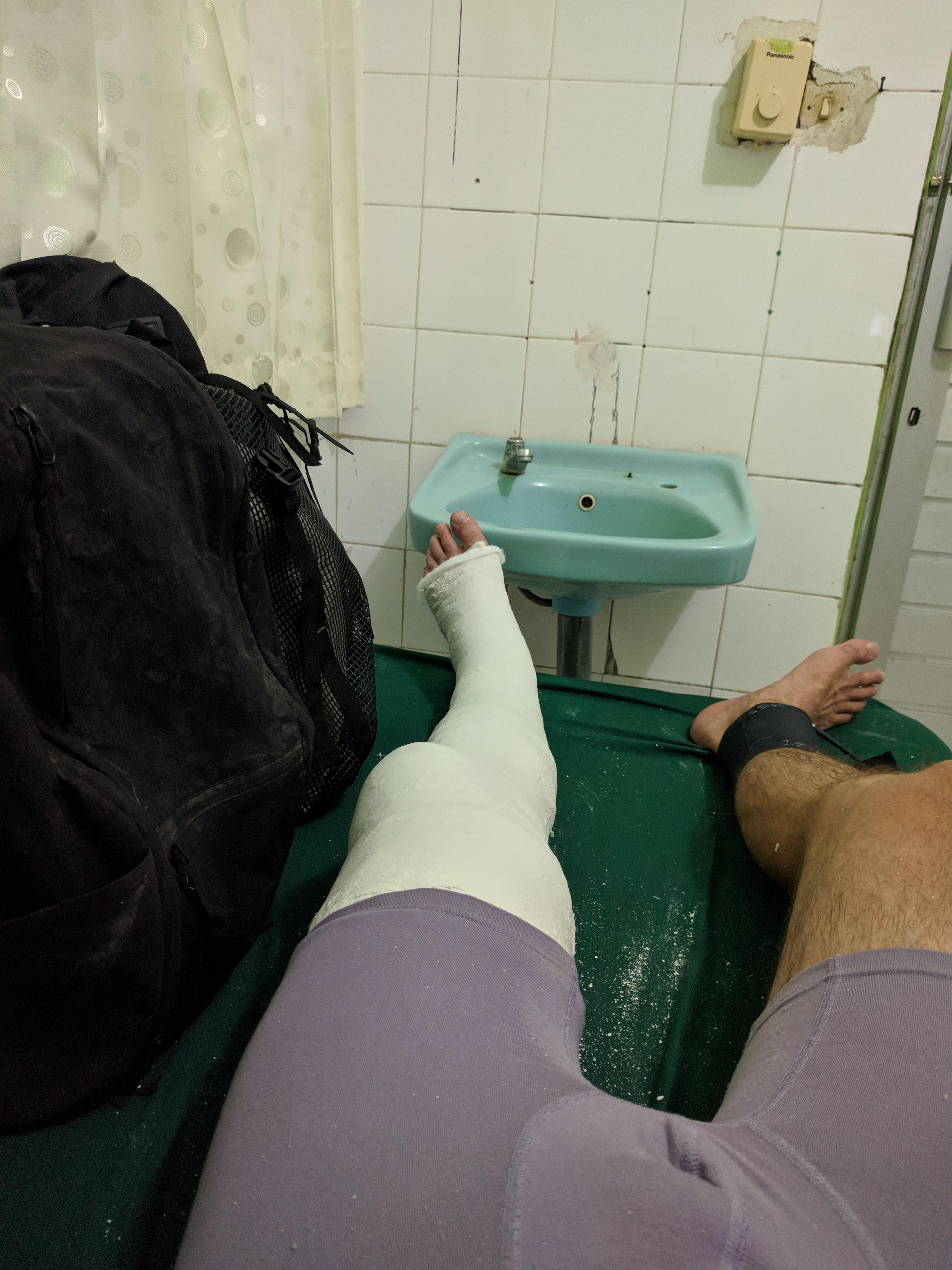 We are in an area with a high risk for malaria and there are mosquitos flying through the room. Here and there you can also see an ant.
The whole concept of privacy is also a little difficult as well as the need for rest. All around the clock there are noises outside, people talking loud, laughing. My emergency bell is broken, so i always have to shout for help or make some noise but even then it sometimes takes five minutes until somebody hears me.
At least Ara is put in charge of me. He is a nurse who usually works in the operation room, who speaks good english and is a terribly nice guy.
He washes me (on the surface). He also helps me to remove my t-shirt that is completely ripped. I'll keep it as a souvenir. He puts it into a bag together with my shoe. The other shoe has been taken from me at the place of the accident and when we left they forgot to give it to me. Fortunately I have other problems.
Wednesday, around 6am: I wake up. By saying that Ara washed me on the surface I mean that I have been lying on grass and dirt all night, because it was still sticking to my back. It will still take some hours until somebody cleans my back completely. My hair will be sandy for days and that I am being cleaned doesn't mean that I don't find a piece of grass or dirt somewhere on my body later.
Wednesday, around Noon: It is 6am in Germany and my sister wakes up. So far I haven't heard anything from the insurance. In the course of the next four hours she will raise hell and make sure that I get an evacuation flight. Turns out, that the wrong information and data was passed on, which means the flight hasn't been organized yet. The next bad news: The airport in Waingapu closes at 5pm. No exceptions. After that time there are no starts and landings possible. A evacuation flight to Darwin, Bali or Singapore could therefore land but not take off again. I have to wait for the next day.
There's not much happening throughout the day. I coordinate thousands of things. Parts of my luggage have to be brought here from Tambolaka (4 hours drive time). But I only can organize this as soon as I know my evacuation time and at that point it is almost too late to find a driver who is willing to go. With the help of Natasha (the hotel lady) we manage to finally reach somebody.
Siân is increasing the pressure. She's certainly doing a hero's job. Barely sleeping, taking a day off work and who knows without her i just might not be alive anymore or still stuck in this hospital from hell. She tells so many people how to do their job. That i need a thrombosis prophylaxis. That i actaully should be checkt for organ damage with ultrasound. All sorts of things. What a great sister to have!
In the mean time I am increasingly annoyed by the lack of privacy. Everybody wants to test their English on me, stands in my room for way too long and invents shady reasons to come in in the first place. As I need to take a pee a nurse gives me a plastic bottle only to stare at my penis until i finally manage to send him away.
The quality here is ambiguous. The doctors are doing an amazing job if you keep their possibilities in mind. The nurses are mainly suffering from a language and culture barrier. Everybody is insanely nice to me. One nurse goes shopping for biscuits for me. For dinner, Ara goes to a local warung (restaurant) and picks up Goat-Saté and fried chicken and refuses to get paid.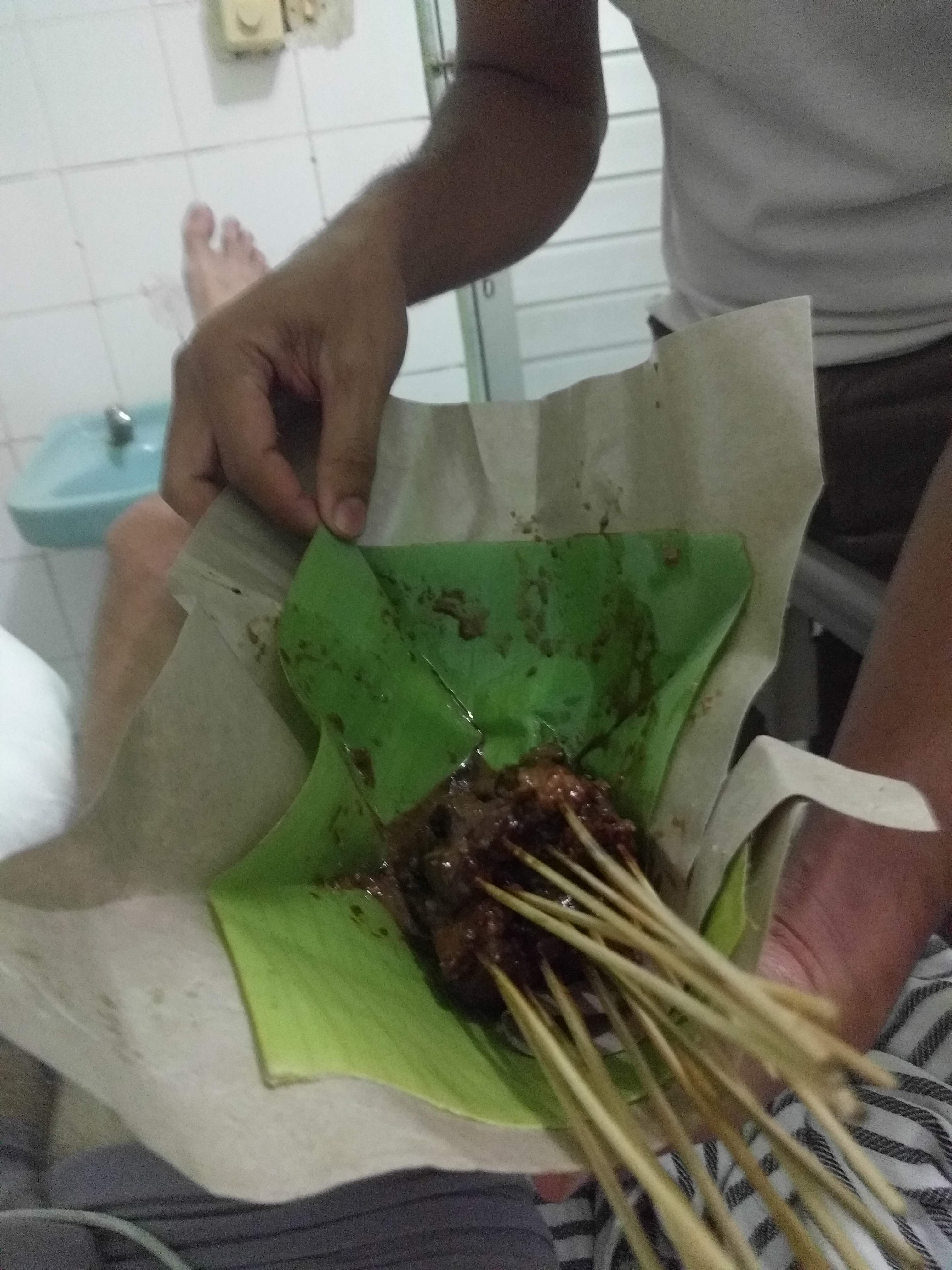 They are all trying so insanely hard but still, I want to leave, it is hell.
Wednesday, 7pm: The modalities for the evacuation are clear. I am going to be picked up tomorrow at 9:30 am and flown to Bali. Originally it was supposed to be Darwin or Singapore (because of the medical standards) but the hospital in Bali is akay, too and here they can guarantee me a faster surgery appointment. In order to be transported my cast has to be cut open to leave some room. Off to the operating room where the thing is milled open and wrapped with a stretch bandage. When I return to my station, the people can't be assed to carry me back into my room and therefore put me into a four-bed-room where I am alone. Without a ventilator. My bed is put next to a wall that has its own ant trail. After I've been annoying my nurses enough they put a standing fan into my room. This works but it also comes with a certain risk of catching a cold. At 11pm my luggage is finally brought. I am endlessly relieved that at least this part has been handled.
Thursday, 8am: I haven't slept too well and I got bitten by several mosquitos. Fortunately I'm taking Malarone which is malaria prophylaxis. I had told my hospital this, but they didn't think it was necessary to give them to me yesterday and I myself was too tired and exhausted to care. Oh by the way: caring and being exhausted? They only offer me to brush my teeth once a day…
Thursday, 9:30am: The medivac team is there. The hospital in Waingapu thanks my insurance for their letter of intent to absorb all costs, but still want to see cash from me. Well. I hand my credit card to the medivac guy, tell him my PIN and send him to the nearest ATM. Then we're ready to leave. I am placed into a vacuum mattress which I actually find quite comfy. Then a final tour with waving and smiling through the hospital compound and off to the ambulance.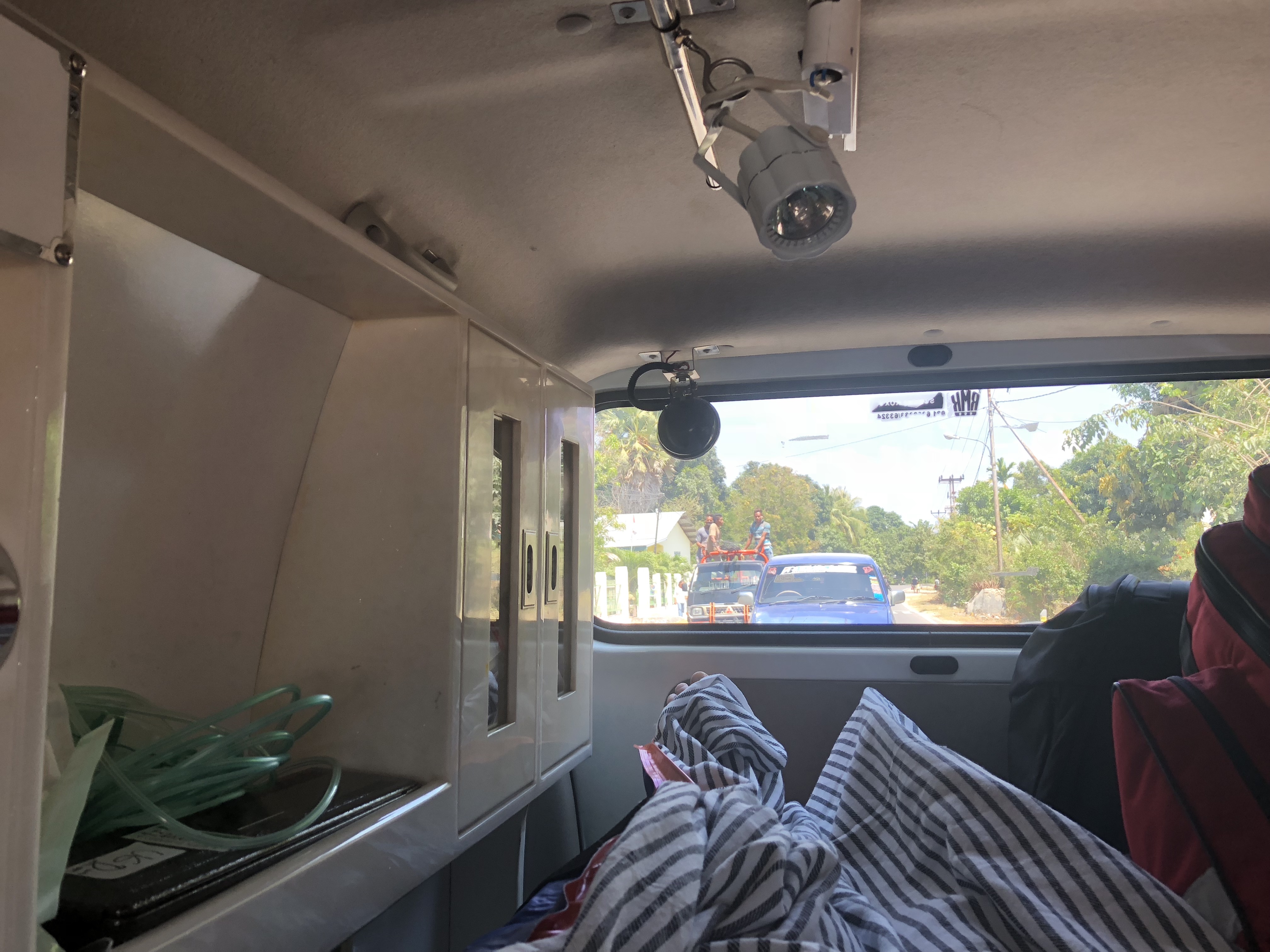 A few minutes past 11 we are at the aircraft,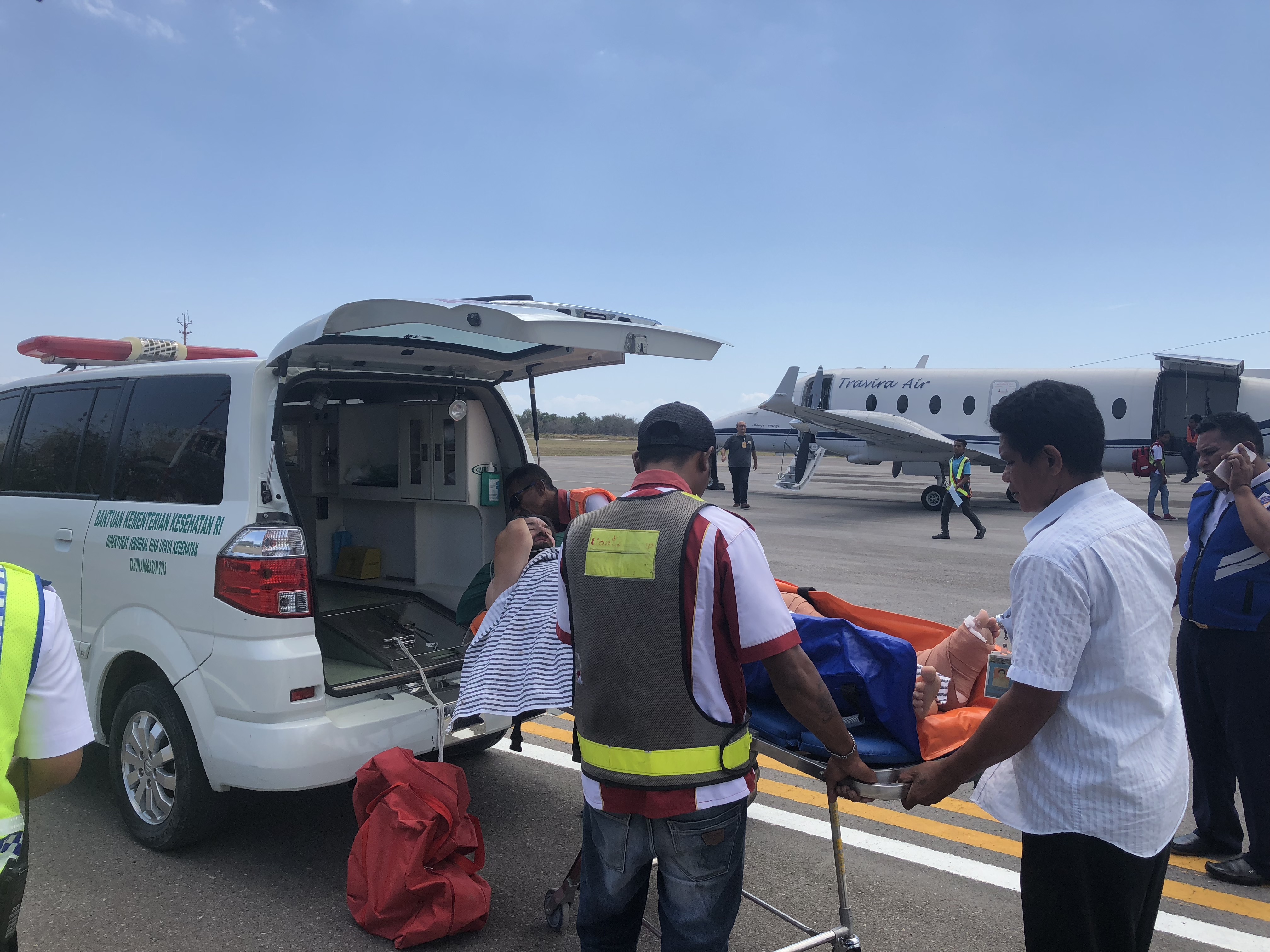 a Beechcraft 1900d turboprop.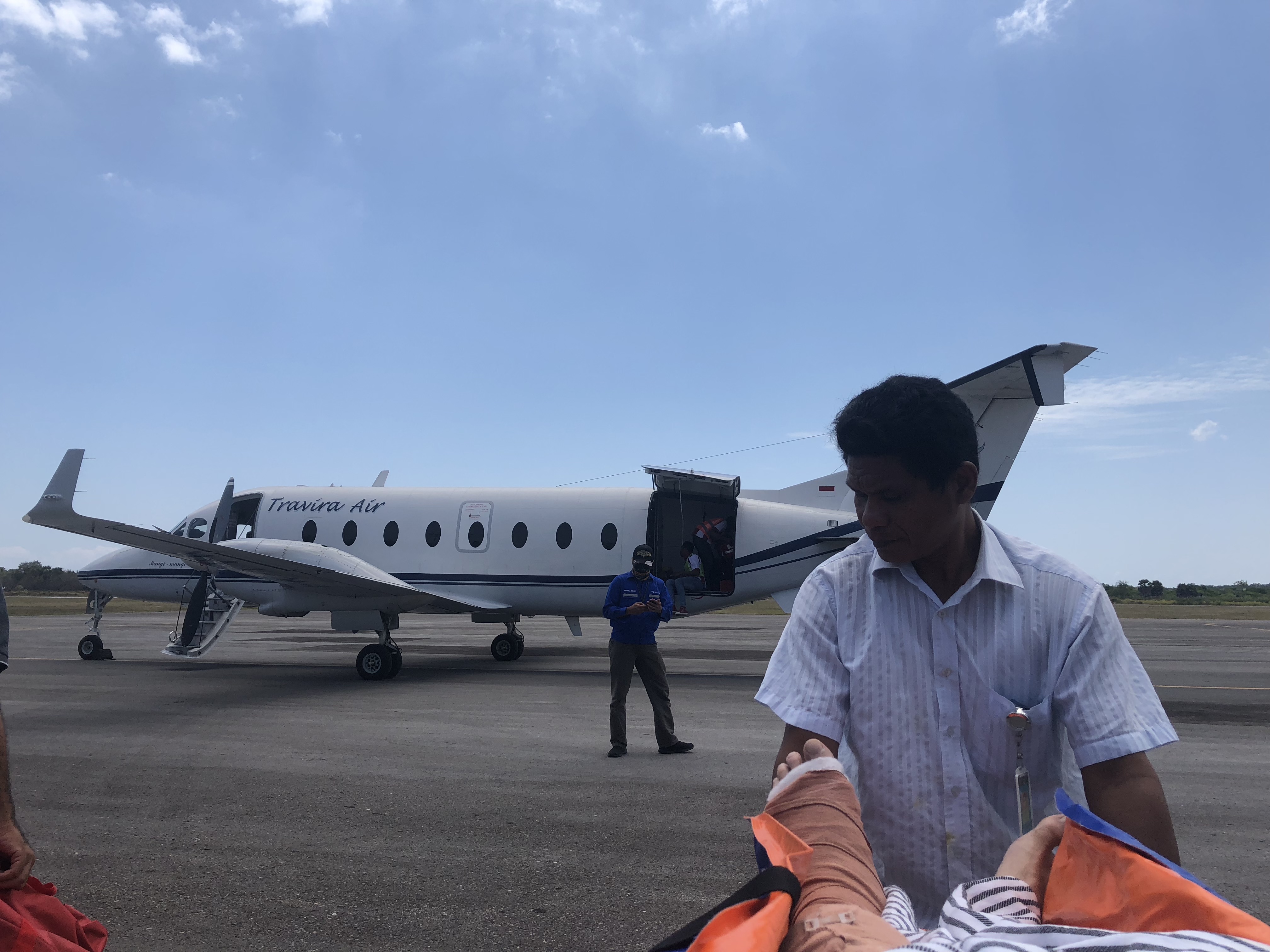 Of course the airport had to check our luggage first and do all sorts of other beaurocratic things because this theater doesn't even stop in light of a medical emergency.
As soon as we reach a certain height the vacuum mattress doesn't work that well. It breaks away multiple times, has to be pumped again and again. I'm not sure if it is the height or whether this thing is just defective. But the aircraft is for sure extremely cold. We fly at 15000 feet and that's exactly how it feels. I only have a small blanket, the medivac team put my travel towel over me, but that's it. As we arrive in Bali i'm half frozen and feeling weird as i've just been in a head-down position for the whole 30 minutes the aircraft took to approach and land at DPS airport.
Thursday, 3pm: I have arrived at BIMC hospital. I have been x-rayed and checked with ultrasound. Which they didn't do in Waingapu, so it would have totally been possible that I could have had internal bleeding. I haven't eaten for almost 24 hours because i have to fast for the surgery. This surgery however takes its time because the operation room is occupied by an emergency. At 9pm it is finally happeneing. 54 hours after my crash I am finally being screwed and sewn up.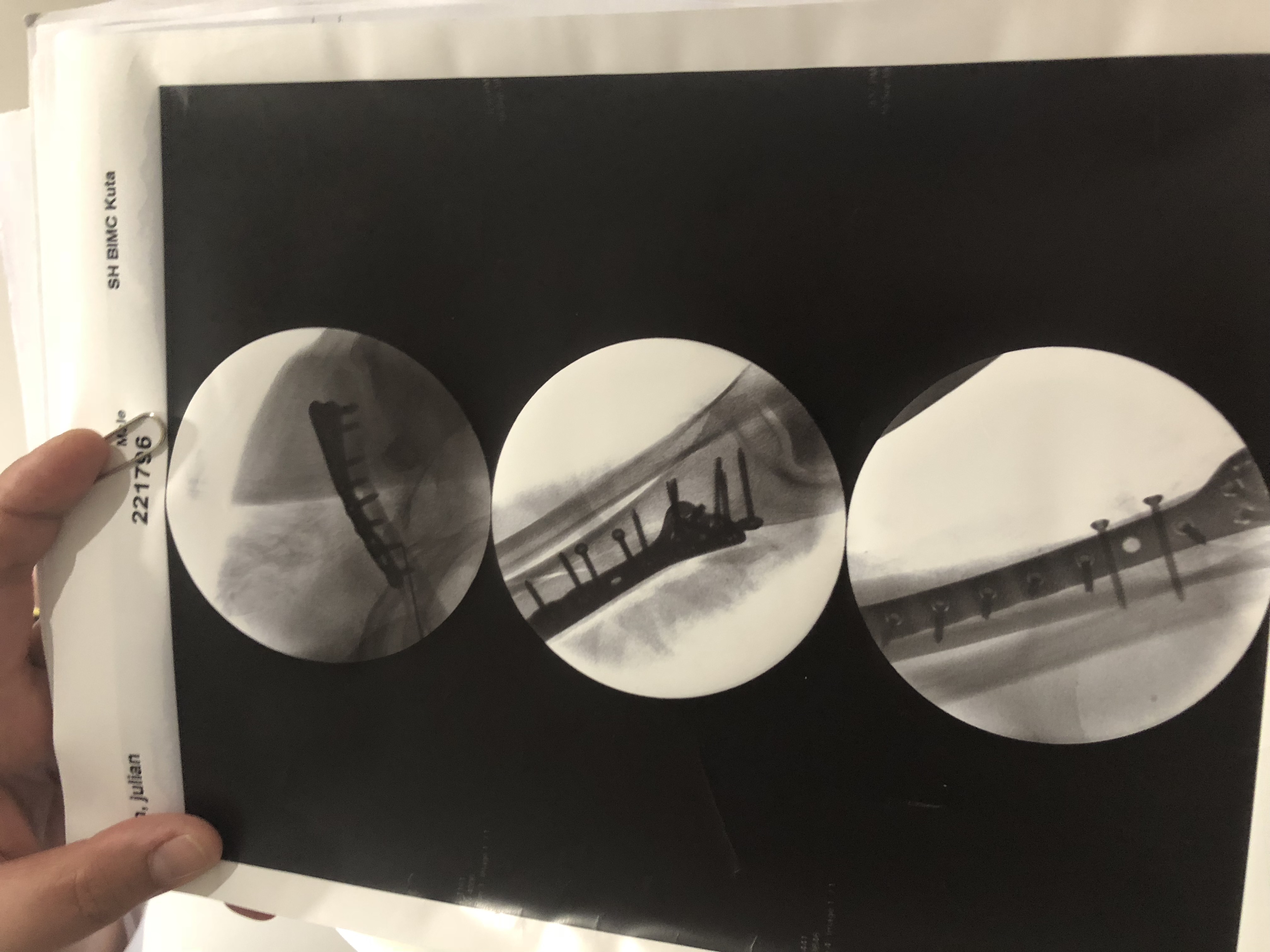 It can only get better now.